Photos: Full moon rises at Tower Bridge

CHECK OUT THE PICTURES ON THE LINK BELOW:
http://london-games.reuters.com/london-olympics-2012/articles/2012/08/03/full-moon-rises-through-olympic-rings-hanging-beneath-tower-bridge-during-london


Absolutely fascinating set of pictures of the full moon rising at the Olympics.

The Moon on the 2nd of August was the largest I had ever seen it to be. It was larger then any supermoon announced and larger than any sunset. It looked as though it had drawn very near to the earth.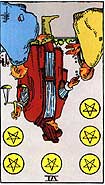 Asking Tarot why the Moon was so large I receive the Six of Pentacles reversed. Now the very first thing to point out is that each card has very many different meanings and really does depend much on what the question is. The first thing I would say is that this card is an Earth Card.

When the Six of Pentacles is reversed it may be suggesting that the Moon is so large because the earth is 'out of balance'.

Perhaps one or the other has 'broken its boundaries'? perhaps it is prodigal? though it will come to us as very much a illusion. Does that mean people viewed the moon so large and thought little of the size of it hence the illusory factor, or is there something else to consider here.

There is a balance between the Sun the Moon and the Earth and the Sun is astrologically linked here to this card. Are the three out of balance to each other as this card can be disharmony when reversed. Our six would normally tell us something is 'as solid as a rock' so one wonders at the negative side of that !!

One thing for sure is that if there was anything strange about the size of the moon - there would be a sense of 'being in denial'.

Of course many people would say the Moon is moving away from the Earth, but what if it was to move closer, what would happen, tidal waves? freaky weather? electronic device faults? Are we seeing any of this now?


Empathy.
Experts say the sun is reaching a peak in its 10-year activity cycle, putting the Earth at greater risk from solar storms. Power grids, communications and satellites could be knocked out by a massive solar storm in the next two years, scientists warn.