Brandon was last seen at a Dairy Queen in Medford, Oregon around 6:30 p.m. on June 13, 2008. He called his parents twice that day, indicating that he may harm himself. His cell phone pinged off a tower near Lake of the Woods, Oregon at 8:00 p.m., and that was the last sign of him. He has never been heard from again. He may be traveling in a red 1998 Honda Civic two-door coupe with Oregon license plates XVB615
Medford Police: 541-774-2234
or
National Center for Missing & Exploited Children: 1-800-843-5678





Please note that tarot will pick up

TRENDS /VIBRATIONS

of

PAST PRESENT AND FUTURE

- it will pick up anything that is 'out there' true news or false news - either way it can throw light on what is 'in the air' - please bear this in mind when you are reading the insights.

It is very important that 'readers' of the blog understand this, therefore one has to be very discerning when reading. Media news can put out stories that are not factual or are pre -mediated but Tarot can pick that up. It does,nt mean that tarot is wrong, it shows tarot can see what might be suggested. However when writing the tarot it may be taken as fact.

Tarot does not have all the answers or claim to solve issues. All it can do is show what it feels may be of USE or point out possibilities.

Please always read the following

ABOUT TAROT ON THIS SITE

which is a useful article in respect of all the Tarot printed for Missing people/children.

TAROT CANNOT BE CONSIDERED AS

100 PER CENT ACCURATE BY LAW.




BRANDON PERDUE
29TH AUGUST 2012

I have been asked to look at the Tarot for Brandon Perdue. Please remember to read all the notes regarding Tarot as though Tarot gives us glimpses of past present and future you must always refer to factual sources of information. Tarot cannot be guaranteed as 100 per cent accurate by law.




I feel at first glance that this boy was insecure. He seemed to have had a few 'hard knocks' and to me he may have had problems with money. I dont know if he worked but I just see big problems regarding his lifestyle. Perhaps he just did not feel that he could step up. For some reason I feel he needed lots of support and encouragement I feel as though he was not ready for responsibilities, did he owe money or was he in debt or perhaps had problems 'getting by'. He seemed to want a fresh start but I feel that many things have weighed him down.

When pentacles arrive it is not always money, but I just sense that he felt robbed of opportunities in some way and I was thinking work and money matters mostly not having enough to pay bills or be able to look after himself or worse still someone taking money from him he could ill afford. The overall sense is a lack of security. Did he have somewhere to live? I just seem to see him with 'not a lot' for some reason. I feel as though he is talented but just lacking initiative or some kind of obstacles that somehow dont help him personally to get on in life. I see an unemployed person here Im not sure if it is Brandon or not. Maybe there was an unwelcome message about finance or just difficulties surrounding that. There is a distinct lack of motivation here and some kind of carelessness.

Was he trying to get a job unsuccessfully? Im not feeling he could get anywhere just a dead end type of situation. I dont think he wanted to be 'run of the mill' but if he had plans of any kind it just seems to me that they were disappointing. I may be completely wrong but thats what I would sense. Im just sensing a 'shady' character somewhere in the mix it could be someone around him I cannot say for sure but I just think there are business practices here that are not up to scratch.

This card is a number 13, we could break that down to a 4. That might give us a 'boss' or it could show us a car but both numbers might be useful.

Someone needed to make some quick cash here and because of that there is always the element of insecurity and that can affect the health also. Thieves can come up in this card so can burglary and rogues and loss of finance or possessions. Its not always the case but I do mention it. College names and university names might show up somewhere, but also 'bird' names. I get the feeling of valleys or parks or rural elements in this card .

Im seing a period of withdrawal cutting himself off from people. The Hermit makes an appearance which could show us names that are to do with light or bright being as there is a lantern connected but it can show going off on our own and needing space and time alone. It can also give us a hill whether in name or place but also roofs or attics or somewhere up high . Sometimes snow capped mountains can show in this card and also links to scouting, hiking or camping anything of that nature even caravans and mobile homes could come up.

I feel there are sides of Brandon that are 'timid' or that he backs away from certain things. Though the card is North as a general rule I am also seeing South West. I cannot say which are the starting and ending points or whether they are direction or road names but I just write it down and hopefully if Dee can look at a map for me I will post it up later.

I am seeing someone of average height, slim angular features, Thin lips, high forehead, small piercing eyes. Hair dark . Problems with the stomach. Some depression and anxious over worries.
Links and connections or descriptive landscape may be places that are low down and near to the floor. Agriculture, harvest and agricultural/farming storage, dairies, granaries, breweries, cornfields, hay-ricks, greenhouses, barley, wheat or peas or where cheese and butter can be stored might describe places of interest.

If inside a building there may be connections to study, accountancy, or storage; libraries, book cases, or places where books, pens and reading/writing paraphernalia are kept, typewriters, word processors and computers, study halls, office areas and items used for book-keeping. cupboards, pantries, closets, cabinets, drawers, medicine cupboards and even drug/medical stores might come up. These are either actual or descriptive values to describe a place that might connect.Sewing, knitting, storage and tools, and storage areas / annexes in homes or to homes could come up as can pets, vets or small animals.

Im also seeing a non biological home? There may be a 'bank' name and the letter G also seeing someplace out of town?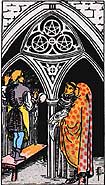 This card seems to show us a building. The direction here is North and number 3 is given to be useful either in route or distance or for some other purpose. Here there is an apprentice and a yellow apron sometimes comes up in these cards. The colour Green also. I cannot say whether it is past present or future but I am seeing some kind of paid employment which would give me the impression of a building.

There may be water nearby. A bench and an arch come up here. South shows up here, bones joints and skelatal structure perhaps there has been some illhealth and problems to the knees?

There may be a connection to farms, farming equipment, wood stores and places where farm animals roam. There may be fallow or bare land, barren fields, bushy and thorny, or where there are dunghills, compost heaps or soil prepared with manure. I think of rurality like gardens locations that are low down, either near or on the ground low dark places possibly near water or some connection to boats/ships whether in name or actual, also walls, garden fences, gateposts and international borders.

Church or church yards and ruins. Confined spaces seem to show up, even containers and if inside a house or building low dark corners, on or near the floor, doors, closed in or as mentioned confined spaces might show in name or actual. Possibly connections to deserts, woods, valleys, caves, dens, holes, mountains, or where men have been buried, church-yards, ruined buildings, coal-mines, sinks, dirty or muddy places, wells and houses of offices might even be somewhere that is abandoned or closed or not occupied. Sometimes building construction might show up but that would give the impression of somewhere being run down.
Gold names might come up as well as two other people.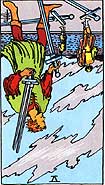 Asking when Brandon will be found there may be a postponement on that. We do have the number 5 here and I usually link swords to months but clearly some time has gone by so maybe the 5 is a distance number or it is 5 years. The number 5 may be significance whichever way it shows itself.

East comes up on this card as do water rocks stone and concrete. It seems that someone needs vindicating for people talking bad about them. I think Brandon will be found Im not quite sure how soon but maybe there are a couple of people who could help. It is 'other people' that can help clear up the situation to finding Brandon but overall there is a no forwarding address statement here on this card so it wont be easy. I have a description of someone who is not particularly tall, sturdy kind of body, long face, prominent bone structure. Fair clear complexion, hazel eyes Sandy or dirty blonde hair. North West is given.

Legs Shins or lameness comes up as do places that might sound like or be names of places if not actual that fit the description of deep wells, quarries, mines land that has recently been dug. Somewhere high like hills, or unevent land. Aviation might come up, roofs attick rooms, eaves upper parts of building or house. Bedroom scenes come up and a blanket? depression and meloncholia and worries and problems. Places linked to water, springs , fountains etc.


Some kind of deceit can come up here where things are buried or the truth is. Guns and weapons can show up on these cards. Legal matters might come into place at some point. The page might show a detective or 'spy' or it could represent a rival but there is the three person link.

A not very nice man might be seen in these cards and there may be a link in all to three people this might include Brandon. Church links show up here and drugs too might show up. A crown or circle - arguments that seemed to be resolved but if so not in a happy way.
He is mislaid for a time according to Tarot but maybe something here will assist in throwing out a few thoughts or clues.I am wondering if there are music links also something Black, a Jewel or Jewel name, silver or gold. Someone who does not tell the truth?

This is a very brief overview for Brandon and I will try to get back and elaborate if Brandon is not found by next year but for now this is general information which though cannot be guaranteed as 'spec' might be useful in some way.

Empathy





Suggestions/possibilities or connections/vicinities.



Nothing can be guaranteed with location and generally I ask Dee if she can find the pointers from Tarot on a map and post it and I will do this here. I have looked at a map meanwhile and see that Route 5 leads to 'Gold Hill and there is a Blackwell Road there'. I also see Ben Hur Lampman State Park and Rogue River State park. There is a Grant Pass to the North and North and South references to Eagle. I do not know if these areas will help or whether they are being shown by Tarot as the vicinity areas but there is an airport there also and I would expect to see one if Aviation is mentioned.

The route 5 goes to the South East and passes Talent and Klamath National Park is there incorporating Marble Mount Wilderness along with the route 3. There is water near route 3 near Trinity National Forest.


All I can say is that Tarot is giving some outlines but I cannot promise whether it is naming a possible location or whether it is just showing areas of interest to close things in a bit or showing some kind of link or association in some way. It is a wide area of possibilities and I cannot guarantee success or whether these areas may be helpful or not but seem to show some of the directions in Tarot that have been mentioned. Tarot may be showing the opposite directions to where he is or where he came from - so please be careful with the 'ideas' because they sometimes work out a little differently to what we expect. The only thing is that one has to consider all the directions and then look at the map. The route five goes all the way to Red Bluff and Eureka in California it also goes North and North West of where Brandon disappeared.


Empathy.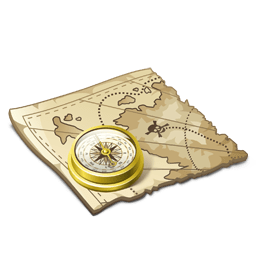 Dee has compiled a map which OUTLINES all the areas that Tarot may be touching on or may be describing. Please bear in mind that this is not guaranteed and Tarot can mean somewhere else entirely.


CLICK LINK FOR TAROT MAP
(Hit the Grey word that says MAPS)
Show on Maps
UPDATED 5TH AUGUST 2014
No current news but a reminder here that searches were being stepped up.
Police ask for hunters help in finding missing Medford men ...