Douglas Perry Plummer was last seen in Salt Lake City, Utah on January 17, 2001. He was at a sandwich shop, which was his place of employment, at the time of his disappearance. Plummer has never been heard from again
.
Douglas does not drive a vehicle and utilizes public buses. He carried a dark-colored backpack at the time of his disappearance. He resided in Taylorsville, Utah in 2001. Plummer may have traveled to the Ephraim, Utah or Mount Pleasant, Utah areas. His case remains unsolved.

If you have any information concerning this case, please contact:
Salt Lake County Sheriff's Department
801-743-7087




Please note that tarot will pick up

TRENDS /VIBRATIONS

of

PAST PRESENT AND FUTURE

- it will pick up anything that is 'out there' true news or false news - either way it can throw light on what is 'in the air' - please bear this in mind when you are reading the insights.

It is very important that 'readers' of the blog understand this, therefore one has to be very discerning when reading. Media news can put out stories that are not factual or are pre -mediated but Tarot can pick that up. It does,nt mean that tarot is wrong, it shows tarot can see what might be suggested. However when writing the tarot it may be taken as fact.

Tarot does not have all the answers or claim to solve issues. All it can do is show what it feels may be of USE or point out possibilities.

Please always read the following

ABOUT TAROT ON THIS SITE

which is a useful article in respect of all the Tarot printed for Missing people/children.

TAROT CANNOT BE CONSIDERED AS

100 PER CENT ACCURATE BY LAW.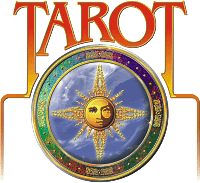 DOUGLAS PERRY PLUMBER
7TH JULY 2012


I have been asked if I would look at the Tarot in respect of Douglas who has been missing since 2001. Please remember to read all notes on the Tarot as Tarot gives past present and future trends. Tarot is also considered 100 per cent accurate by Law so please go to factual references.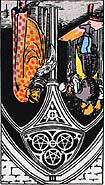 The very first impression I have of this boy is that he is bored. The work place is showing on this three of Pentacles and it rather suggests someone who cannot really make a lot of money doing what they are doing and can actually give the idea that perhaps they feel it is a dead end type of job where there is nothing to give them any enthusiasm. There certainly seems to be some lack of funds and I just feel that perhaps it was a lot of labour for not much of a return. It can also show us someone who is lazy but that is not meant to suggest Douglas but it is here.

However, there are other elements that could come into play here.
Firstly we have both a NORTH and a South direction and the number 3. The number three can relate to three people and they can have something to do with finances and work. One of these may be an apprentice. The overall consideration is whether Douglas felt undermined in his work and decided to seek better opportunities elsewhere or whether in fact there are reasons to be concerned as these are also health cards and our card is reversed.

It is even possible that Douglas might have considered or even thought about getting another job because our ace of pentacles is a work contract , that is reversed and if Douglas was not sacked from his job then it can simply say that he lost interest because he felt underpaid and needed a better avenue of finance. The other consideration is that these cards can also show possible robbery or theft and even burglary but there are no indications of this in our outlining story however it still does make me feel that he was feeling incredibly insecure as his security measures are not in a protective force here.

So its just a matter really of deciding whether or not he just decided to move on. I feel there is criticism around him whether that is someone who makes him feel bad about himself or just what he feels about himself I cant be sure, but that kind of suggestion could come up here. So can feeling bereft with nowhere to go or not knowing what to do next because we are in an indecisive situation here. But we do have North and we do have South so he would be at one of these points or linked to both. Losing money seems to be here however that relates or not being able to make money or enough money. Im just wondering about the three people here though?

Sometimes jealousy can come up in this line of cards or some problem or obstacle. Did Douglas say that he wanted to end his employment and if so was he due a final payout? there is something that seems to come up in that vein as a possibility. I just sense a situation of 'cold comfort' here and a 'lack'. Douglas's family card is reversed here also so for some reason he must have felt that he could not contribute perhaps?

The one problem that might stand out to me is that this card is a non manifestation card so is one sure that he was last seen at the Sandwich shop? there seems to be obstacles in that path?
Someone here might be a person that pushes the words responsibility and duty but in such a way that the strictness of it is over the level that perhaps Douglas might have wanted and that could cause a kind of intimidation. It just might be something that put Douglas off his work but seriously it could just boil down to boredom and not enough pay.

The kind of descriptions that I have whether it is around him at the time or linking in to landscape or even new job prospects seem to show me farms, farming equipment, wood stores and places where farm animals roam, Fallow or bare land, barren fields, land that is bushy and thorny, or where there are dunghills, compost heaps or soil prepared with manure. Locations that are low down, either near or on the ground low dark places. Water names , places where boats or sails could be store - this could be another way of saying 'Salt Lake City' so be warned.

Walls, garden fences, gateposts and international borders or simply thresholds of territory can come up here but so can churchs, church yards and ruins or closed in or confined places.

Dogs or small pets could come up and properties that might be closed or not open. How all this relates to territory around Douglas is in description only.

Let me look at the next card.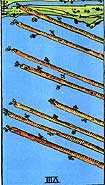 This card actually does represent South being a wands card but might be South East or South West. Im a little concerned about this card because it once more brings up possibilities or robbery or theft. There are quarrels on this card and in fact quarrels or some kind of jealousy or hindrances also appeared on our first card so thats quite interesting to see that appear again. Number 8 comes up here so therefore it must be taken into consideration possibly for route or distance. Heat and fire can come up here along with horse names, stables , high Hills, Hills and open land.

Walls and fences also can appear here and possibly (not necessarily) airports in the vicinity. I get the impression of being bullied or pushed around by others oppression seems to come to mind. Reversed wands cards are not always cheerful because they can show sex and weapons but also anger and violence. There is a 'river' or body of water somewhere in the cards and its whether again this is naming a place or describing the location. Valleys, open air, field-sports, gardens and meadows can come up here.

Perhaps somewhere linked to a HIll is a clue?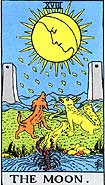 Perhaps a bridge or two towers are key here. Most certainly we are looking at a water card and I think it must be a place where there is water in the name of the place or water in some respect because this card can give us water references such as fishponds, rivers, springs, watermills, water pumps, wells, marshy or watery ground, moats, springs, the ocean, and all places near to water inside or around a house. It also gives us church references once more.

All descriptions of places should be taken into account however.

We do have a recovery here and a sense of healing and I assume Douglas has not been found but if so please do let me know. The number I have here is number 18 which could give us a 1 and 8 or even a 9. It rather talks of a completion here and much illusion meaning that perhaps there are things that are known and not told or that perhaps some things are not what they look like.

However, Douglas is still listed as missing so I guess I have to go by the fact that he must still be out there. There is a sleep element on this card which could indicate difficulty in finding Douglas so Im not feeling that would be an easy task despite the star card suggesting that recovery is possible. It is if one keeps searching but how long that will take is not very encouraging via the presence of the Moon. The moon shows difficulty regarding a mother figure and I have no background information to suggest anything here to help understand why a mother figure would come up but it does.

There is a mute element here that rather makes me feel when I ask when Douglas will be found that there is no strong verbal communication coming back to me. So right now I am not sure when it is possible for him to be found.

The deception on this card can say he has been found or that its a deceptive situation with no real answer for me right now.

I have the initial 'Z' and the colour gold come up. I also smell 'lemons. If Douglas is alive and healthy then he is being protected or sheltered and may not wish to be found but if not then I do feel that there are hidden elements regarding him and water may be the name of a location.

This is a very brief look at Douglas's situation. Nothing can be guaranteed but Tarot tells me it is 'unknown' when Douglas can be found but maybe he is near an ocean ?

There may be 'hardships' whilst growing up and this comes up here. Douglas may have had to cope with health and financial issues a lot in his life and a 'C' 'L' or 'U' might be an important initial. I link nature a lot to Douglas natural forests or bushlands.

Empathy.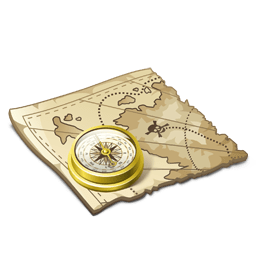 Dee has compiled a map which OUTLINES all the areas that Tarot may be touching on or may be describing. Please bear in mind that this is not guaranteed and Tarot can mean somewhere else entirely.




CLICK LINK FOR TAROT MAP



Show on Google Maps