ROXANNE PALTAUF

Nearly 6 years ago, Roxanne Paltauf went missing on July 11, 2006, from a Budget Inn motel in Austin, TX. She was staying at the hotel with her boyfriend Lewis Walls. The hotel was located near Interstate 35 and Rundberg. Walls reported that Roxanne had left the hotel after they had been arguing and that she never came back. He claims the last time he had seen her was around 8:30pm that evening.

If you have any information about Roxanne, contact the Austin Police Department at (512) 974-5750 or CrimeStoppers at (512) 472-TIPS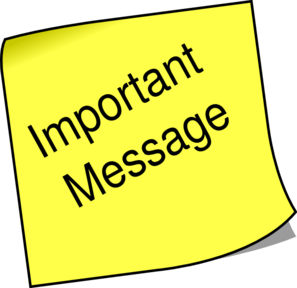 Please note that tarot will pick up

TRENDS /VIBRATIONS

of

PAST PRESENT AND FUTURE

- it will pick up anything that is 'out there' true news or false news - either way it can throw light on what is 'in the air' - please bear this in mind when you are reading the insights.

It is very important that 'readers' of the blog understand this, therefore one has to be very discerning when reading. Media news can put out stories that are not factual or are pre -mediated but Tarot can pick that up. It does,nt mean that tarot is wrong, it shows tarot can see what might be suggested. However when writing the tarot it may be taken as fact.

Tarot does not have all the answers or claim to solve issues. All it can do is show what it feels may be of USE or point out possibilities.

Please always read the following

ABOUT TAROT ON THIS SITE

which is a useful article in respect of all the Tarot printed for Missing people/children.

TAROT CANNOT BE CONSIDERED AS

100 PER CENT ACCURATE BY LAW.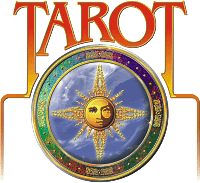 ROXANNE PALTAUF




14TH JUNE 2012



I have been asked if I would look at Tarot for Roxanne Paltauf who went missing in 2006. Tarot may be able to give some glimpses into past present and future trends but please read all the Tarot information notes and understand that Tarot is not considered to be 100 per cent accurate by LAW.




It seems to me from this first card that there were big disappointments in a relationship for Roxanne. This card shows a relationship broken off and rumours gossip and slander seem to be here too. Sadly this card could promote drinking alchohol or drugs and even suicide not that I want to suggest that is what occurred but mainly that there is a male who is in these cards .Roxanne feels that a relationship let her down but Tarot is not placing blame on anyone we just will see how it unfolds and then it needs to be read as a whole.

This card is giving me a West direction but it is also telling me about a return of a loved one. Now that itself might suggest that either she was hoping the relationship would get back on track or that she met up with someone here. I have a connection to the North and North East and also a character may appear well built and generally quite hairy. Likely to have dark complexion, hair and the eyes are often dark and penetrating. The face square or broad with a short neck, possible squat appearance.

This card is watery and we cannot fail to notice a bridge but often the bridge can be symbolic for example when we want to get back with someone but we should note the bridge and also a river/stream and a building nearby. I seem to have sexual matters here and a feeling of threat or fear. She may have been near water or a water name may appear . There may be an initial M or W here that comes into the picture. I would be concerned for her peace of mind because she is more then upset in this card and sometimes we can do foolish things when we feel that way.

Connecting factors are North facing Walls, untenanted buildings and much water/emotion here I have a number 5 here and feeling restricted and confined either by someone or in general.
Lets just see what we can pick up for location.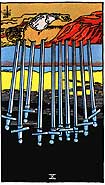 This card gives me a bit of a sad picture and again Im getting water rocks and stone here so the water reference appears to come up again. Something happened perhaps in a bedroom? and though I see East here in a name or a place I could be looking North West here.

An argument was not planned, nothing was planned it just happened and it seemed that was it but I am seeing some kind of rival or third party here and that gives us two people possibly besides Roxanne. A rival perhaps or someone who spies. Did anyone see the argument? if they did then perhaps this could be key. I have a number 10 on this card or a number 1 that could be taken into account for route or distance. It does seem to apply a riverbank so near or even in water but obviously I hope that is not the case but instead the name of a place.

There may be a church name or even church nearby or it really could be spiritual references. This card can show neurological problems indicating problems to the back spine or the head. Its not definite only that its possible. West seems to be the strongest here. However this does not mean the worst because at some stage there is a feeling of getting back on her feet so if this is all things that Roxanne felt coming into play here perhaps she came to terms with the broken relationship.

If not then we need to just look at the locational factors here. I can see a 'grandmother' around but not sure of the context of that ultimately. Its possible that Roxanne managed to just walk away from a situation that was just not right for her but we just have to write everything down because tarot comes in glimpses of three different time spans and its hard to know which comes first or last.

I generally see railtracks with this card and forms of travel such as airports any of which could be in the vicinity but high ground Hills and mountains, high places, barns and storehouses for corn and grain seem to come up. Libraries do possibly offices and so do areas or sound like names to Money and that brings me to think about a Bank or a riverbank. However that could be in a name Other places if inside a house are telling us to look up high to high windows .

Yellow and yellowish green come up here as significant colours.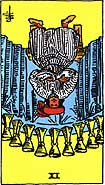 I have a 9 on this card or a 6 and tells me that perhaps this girl can be found in a familiar vicinity. Though this card tells us that YES she can be found it is reversed and for that reason it could be that delays in finding her are because one needs to search areas that she is connected to?

This card shows us being 'under the influence of' something and it can have food names so places that might link to 'food' perhaps ? This card can also represent drains and having to drain out something in order to find her? in this card we have to take account of all the information in the first card as it will likely link in some fashion.

Perhaps she is 9 OR 6 away from her home?
Its worth bearing in mind that there may be more then one person here involved in her disappearance as we may have two people here and possibly male. Food names can be like ' Kentucky' as an example not to say that it is but that is a way of understanding a food name or even kitchens and containers can come up as well as drains. I cannot name a location only describe it. Water is the element here as can water retention .West again and a feeling of illness so I am not sure of the health of this girl when found or if alive whether she wants to be or not.. North West being prominent.

Spiritual and church elements here and also fishponds, rivers, springs, watermills, water pumps, wells, marshy or watery ground, moats, springs, the ocean, and all places near to water inside or around buildings.

Please take into account all the information here and also black mud which can show up in the second card. I feel very sorry for all parents who do not know where there children are and I hope somehow that in this case as all, that Roxanne can be found as its the not knowing which is the upsetting thing. I would say about the 9 or 6 that perhaps it might refer to six years the time Roxanne has been missing but we have a 9 here to also take into account. This card is normally a summer type card so before a summer - SPRING - or perhaps after a summer?

There are guarantees with this reading but I hope something is useful. Sadly though there are lies and deceit here and thats when you know someone has not told the truth at some time. This a brief look at the situation but I may come back to look again.

Empathy.
Dee has compiled a map which OUTLINES all the areas that Tarot may be touching on or may be describing. I have left the link below the Icon. Please bear in mind that this is not guaranteed and Tarot can mean somewhere else entirely.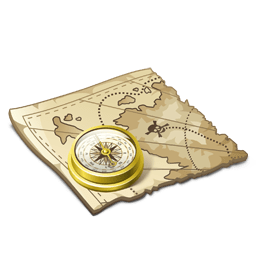 CLICK THE LINK BELOW FOR TAROT MAP
(Hit the grey word saying maps to view)

I think I would be inclined to also mention 'Dripping Springs' and also Costa Bella.
UPDATED NEWS 23RD DECEMBER 2012
Austin American-Statesman
-
23 Nov 2012
But others stay
missing
for good, like
Roxanne Paltauf
, the teenager who disappeared from the Rundberg Lane area of North Austin in 2006,
...
UPDATED 6TH MARCH 2014
http://www.kvue.com/news/local/Polic...248755091.html
AUSTIN -- Detectives say no new evidence has turned up in the case of a woman missing since 2006.
A tip received by officers led them to Rundberg Lane Thursday morning, but after searching and digging in the area, they found nothing. Federal agents were also on hand to help with the search.
NOTE FROM EMPATHY:
According to Dee searchers are in the area of our MAP if you click below they have been searching in the areas N and 0 but Dee is saying we are pointing out WEST of that. Not sure if that is going to be the case but will just mention it.
.
https://maps.google.com/maps