BRITNEY ANN BEERS

Missing since: 09/16/97
Missing from: Sturgis, St. Joseph County, Michigan
Last seen wearing a white tank top shirt with a possible floral design, bright pink or "hot pink" shorts and white tennis shoes with a pink design on the side. Brittney's four front teeth were missing.
Brittney was last seen playing outside of the Village Manor Apartment complex in Sturgis, Michigan on the evening of September 16, 1997.
Her brother was the last relative to see her there, sitting on a bench.

A witness told police that he saw Brittney speaking with an unidentified man. Brittney told this witness that she had made a new friend. She has not been seen since. Her bicycle was found abandoned.

The unidentified man seen speaking to Brittney was in his late twenties or thirties. He had short dark hair, a thick moustache, and was driving either a mid-sized red or brown car.
Sturgis Police Department
616-651-3231




Please note that tarot will pick up

TRENDS /VIBRATIONS

of

PAST PRESENT AND FUTURE

- it will pick up anything that is 'out there' true news or false news - either way it can throw light on what is 'in the air' - please bear this in mind when you are reading the insights.

It is very important that 'readers' of the blog understand this, therefore one has to be very discerning when reading. Media news can put out stories that are not factual or are pre -mediated but Tarot can pick that up. It does,nt mean that tarot is wrong, it shows tarot can see what might be suggested. However when writing the tarot it may be taken as fact.

Tarot does not have all the answers or claim to solve issues. All it can do is show what it feels may be of USE or point out possibilities.

TAROT CANNOT BE CONSIDERED AS

100 PER CENT ACCURATE BY LAW.




BRITNEY ANN BEERS
29TH APRIL 2012

I have had a request on the blogger to look at Tarot for this little girl who disappeared in 1997.

Tarot can often give us some kind of idea of what the situation is as it shows us events past present and future. Anything that I see in the cards can be in any of these time epochs, but hopefully something here will help. Please rememberTarot is not considered 100 per cent accurate by law and you are recommended to go to factual sources of information.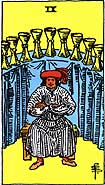 The first card that Tarot has given me for Britney is showing her quite happy and content and near her home. This card has come randomly from Tarot but seems to show family surroundings and the direction here is West whether in address , road or direction. This little girl has a card of water here and again that can reflect either in the name of the area of may show us emotional elements.
This card does indeed show us happiness in relationships but it is next to the home and shows that unexpectedly someone has appeared on the scene here .

Now the 'thing' with the page of cups is that this card does often represent messages to the family, so its possible that someone may have spoken to her about her family but whoever it was had a car, motorbike or some form of transport. This does not appear to be a stranger though because the Knight of cups is generally thought of as a friend so she would have known this person.

Whether it is an actual member of family or not I am not sure but the person that I am seeing here is light haired and not the description of the person that has been recorded in the info details above. The person I am seeing is possible anything from late teens to 32, and cups cards are fair haired people . If they are older they are considered grey haired but this person does not seem to be elderly.
But, there seems to be two children here in the journey of the cups, it shows two children who vanish from their own back yards or from home. The journey shows being offered something or someone talking to Brittney. There is a feeling that one should 'walk away' here but that has not happened.

There does seem to be an invitation to go somewhere here and generally I link this card to a lake, body of water, even boats can come up here. Both the following cards have the water element also but can also represent mother and father, so the invitation must have been something verbal regarding the mother and father, or at least that is what it would appear to seem. I could be wrong. The knight is someone you can talk to or tell things to and therefore I do feel there was verbal communication here.

Though we get cards come out of tarot upright, if these cards were reversed the negative side of this section would not be good and the integrity of the person that crossed her path would be far from honourable, they can be cunning, conniving , deceptive and capable of very nasty things.

On the very surface of it it did not seem that anything bad has happened because these cards end in the what seems to be mother and father?

Someone here might wear a ring that is a 'ruby' or maybe that is significant for something else? It can sometimes give us a father figure or even a 'pastor' can come up in the end cards, it has batchelor references.

All the cards here are connected to water or water names. There is sometimes a 'red ship' symbol that comes out here and fountains/swimming pools/ as well as all other forms of water.
I am seeing no negative tendencies on an older male and female who might be here and they appear later on if we are seeing people and not circumstances here as there is a kindly father figure and a very nice auntie type of person or cousin or someone that is linked to the family.

Theres also something here about 'gay' people and some wonderful unexpected plan.Was this girl taken by other family members? You see if these cards come upright then the influence is positive and not negative but I can see all sorts of bad and underlying problems had they been reversed and I need to point that out. Somebody here is having their 'wish' fulfilled? There are possibilities of some kind of deception because the Moon is linked to this card and the home, so Im just feeling that something was going on here with the family.

This 9 of cups seems to tell us about some kind of loyalty either being given or received and there is something distinct about motherhood or a mother and many difficulties are surmounted here. I have the colour Blue quite strongly in this card and Im feeling there is something 'churchy' here or a church or somehow some reference to a priest or pastor, yes I do seem to have that reference as Jupiter is in Pisces here and brings about people of that ilk. I think the gay element would be appropriate because clergyman are thought of as batchelors, not necessarily true but its that kind of feeling I have here and the direction I have is still referring to West, but NORTH West.

I cannot be sure if the church element is a person or a place because this card can give us Churches/monastries, and places like hermitages, holy places - but it also can link heavily to water elements such as fishponds, rivers, springs, watermills, water pumps, wells, marshy or watery ground, moats, springs, the ocean, and all places near to water inside or around the house and a feeling of seclusion or retreat.

Had this first card come out reversed, I would be looking at a paedophile or paedophile ring and nasty goings on in the homes or connected to it but maybe that hovers I really cant be sure.
There may be someone else in the 'background' connected to our Knight, it is someone that this girl knows, it is not to my mind a stranger. When I see family cards like this I know the missing person is linked to someone or something around their own vicinity or their own home.

Often its difficult to post that because it can upset families if Tarot is wrong, but Tarot is not often wrong when it comes to cards that sit on the family home as this one does.

Lets have a look at what Tarot wants to say about location. Remember these cards are all different messages thrown in together and can will talk about different periods of time in this girls life. I cannot control what comes up and where. The first card is a number 9 and that card itself is telling us about a completion of an end of matters in a home.

Sometimes Horse names can come up with these cards and also drinking drugs and a kitchen.
Someone is very smug that they have 'nothing to hide' but there is some kind of illusion in the disappearance of this child as pointed out by the Moon card. This girl had absolutely no reason to distrust the person that is on the cards on the day of her disappearance as there is nothing negative there to suggest a stranger that she should be afraid of, quite the opposite.
A Thursday is mentioned. If anything terrible happened to this little girl it is not being seen in this card. So let us take another one.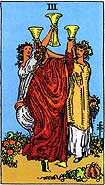 In this card I have an A and a W. This is a happy card it is not negative unless I am not thinking straight when I am delivering Tarots advice. This card tells me that she is linked to possibly a couple but could be one person. This card tells me that she is being looked after by friends or family and that she is in the company of them.

Now I can only ask Tarot to try to tell me and this card was supposed to be an indication of current location. It may be wrong and may just be telling me that she is still near the family home so I do have to ask you to bear in mind that possibility.

However, this is a THREE card so Number three would be significant. Being 'looked after' does come up in this card as it is a card for family counsellors or careworkers and for some reason they come up in this card.

Not only do we have the 9 for completion of a matter in the top card but it appears that the matter is concluded in this one too and it indicates West in direction once more. Either some reunion or gathering here. Now this card is a card thought to point out something about October.

It also is a positive card. So once more Im wondering if this girl was taken by family? I really hate to put out hopes if something auful had happened but from my point of view I dont see it. The only way this would be horrible and negative and end in a bad situation for this child is if these cards were reversed and I do not decide the position of them, Tarot does.

Here we have a white bridge and a flowing river so again we do have water elements. Maybe she is not far from that kind of scenery? If anything had occurred to her then I wish Tarot would have shown it with reversed cards but I dont have them. To be realistic and just talk about location, this girl is not far from her own family home or at least would be in a town that is familiar. There may be a 'tree' name here and/or an 'island' or just the name may come up.

The feeling I have is 'leaving the past behind' so if this was the case it might make sense of what I have seen. This girl if she was alive would around 21 years of age now. I see a Garden here and some kind of 'celebration'???

Perhaps it is just describing the vicinity of where Brittney may now be. But I have to say that it is connected to home.
Perhaps the word 'union' might come up. I have West in the other cards and North West and here again I have NORTH .

Again we are looking at watery named places, such seashores, the sea, rivers and places near ponds or waters - brooks, springs, wells, wash-houses, marshy land, but if it is In houses it represents cellars, cisterns, bathrooms and places near water. So maybe I jump at being optimistic that these cards all seem to be positive, but the truth is they may just be saying NOTHING about this girls health, but are indicating that she is nearby or in a home or her home. I wish I could be more clear because she is connected to caregivers, family, friends etc as per the Tarot.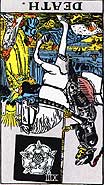 Well the truth is I dont know when she will be found, because this card can say there is a fear of the past and a refusal to change because of it. So perhaps this card is telling us that there is a reason why she cant be found and that is because things in the past are detrimental to her or definitely detrimental to someone else and there is a bishop in this card.

This card is a 13 and it could describe 2013 or it could be a 1 and a 3 or 31. They are all numbers that may be significant in some way even road or route numbers. This card also adds up to Four.
Four is the number of the Emperor and the Emperor when he is reversed represents familial abuse and it can also represent stern, strict and violent actions. The Emperor is known as the father as in parent/guardian father or a pastor/priest father. The finding of this girl appears to be linked to this and why she is not found or links to how/when she can be found.

It could point out a non biological parent ie, stepfather OR guardian?

I personally see this matter in suspension with two alternatives. If this girl was alive, there is no way she will be found and produced to the public because there are too many reasons why not. For one, the Temperence card next door is telling us that there are difficulties in the family or that the family does not 'mix' well together. The name 'Michael' might come up but it doesnt always but I mention it because it is a name that could link. It might be a place and not a persons name I dont know how it would come up so I will be honest there.

I feel there is a syntax problem here, error of timing, its not the right timing so I dont feel this girl will be found yet . As I said, something auful may have occurred to her but tarot has not been clear on that or alternatively she is somewhere nobody can find her. It is really the best I can say or do on the matter.

I think I should pull back from opinion as this situation to me is in Limbo and when it comes to finding her thats exactly what Im told. Limbo - suspension. It would actually be a disaster to find her either because it is not a good idea, or because its too auful. What I do think is that we have been given some information and some numbers and descriptions and hopefully they help. I also have North - East. I would simply consider the entire Tarot as a Whole and hopefully something here may give clues.

Empathy.

Afterthought.

I was thinking about the 'Three Rivers' area and road 131 to the North West - there is also a place called White Pigeon there and Centerville. Not sure if these areas are of interest but there is also a 'Union' to the West and North East 'Union City'. Im never really attempt to pull areas off a map because too often there are more then one area that could fit. Anyway I did notice these areas whether they are useful or not.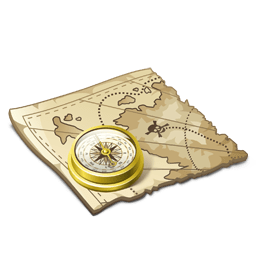 The following is a Map Dee has provided from Googlemaps and it is the exact place Brittney was last seen and the road of her home address.
http://maps.google.com/maps
UPDATED 5TH AUGUST 2014
Please keep Brittney 'circulated' on your facebooks and blogs!