Crystal Hall - missing since March 1 2009
Kentucky State Police need your help in locating a missing woman from Pikeville.


Troopers say 24-year-old is Crystal Gayle (Branham) Hall has not contacted any family member since March 1st 2009.
They say Hall was last seen on Kentucky Avenue in Pikeville--the same street where she lived. Hall is 5' 4 and weighs 107 pounds. She has shoulder length red hair and brown eyes, and possibly has the tattoo 'H' on her lower leg.
Anyone with information her whereabouts is asked to contact Kentucky State Police at 1-800-222-5555, or 606-433-7711.


http://profile.myspace.com/index.cfm?fuseaction=user.viewProfile&friendID =337408263





Please note that tarot will pick up TRENDS /VIBRATIONS of PAST PRESENT AND FUTURE - it will pick up anything that is 'out there'true news or false news - either way it can throw light on what is 'in the air' - please bear this in mind when you are reading the insights.


It is very important that 'readers' of the TAROT understand this, therefore one has to be very discerning when reading. Media news can put out stories that are not factual or are pre -mediated but Tarot can pick that up. It does,nt mean that tarot is wrong, it shows tarot can see what might be suggested. However when writing the tarot it may be taken as fact.

TAROT

CANNOT

BE CONSIDERED AS

100 PER CENT ACCURATE.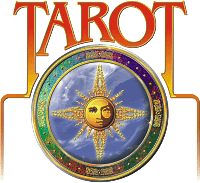 At last I have been able to get a bit of work done on the blogger with some updating and bringing forward some older cases from my forum.
The request for Tarot for Crystal Hall is one of four cases that need immediate attention.

I could not find a picture that I really might be able to connect with, the only one being one of her with her two children. Ideally it is best with a single photo of Crystal. However, I am going to try to see if Tarot can give me ideas of the situation .

Dont forget that Tarot is Past Present and Future and always read my important notice. Tarot can help but it does not know ALL the answers and its a question of piecing things together. Tarot is not 100 per cent accurate therefore and I do ask that you go to other factual sources of information to keep you informed.

The date I have for Crystal going missing is March 1, 2009 and I have no other details regarding her and have not viewed any details as I prefer to 'get what I get' from as limited material as possible.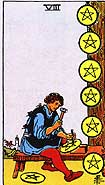 On that day if Tarot is correct it appears that there are two things, one that Crystal was connected to the school or going towards the 'school' or she was thinking about a new job or getting more training for a job herself. That is what this card is all about. It is also about selling something - and making money. So making money is strong here though how the school would come into that I am not sure unless she wanted a better job and be better trained to make more money.

Sounds like that might be possible. I really think she wanted to add to her experience with a job that might end up rewarding for her. Perhaps the idea of independence and being able to be a 'queen of her own castle' might have appealed, just feeling that you can increase your security yourself and do better in your life. These are the feelings that I have for her.


This first card does not appear to me to have anything negative about it as its a healthy vibrant card and its in a very optimistic suit. I sense 'walking along' and that is what she was doing whether to go to work or for any of the reasons above perhaps to school/college or work or to apply for a new job.

But, I do see a dark haired person in the picture and it looks to me that Crystal has red hair perhaps someone else was walking along as well or even riding a bike?? maybe she was going to sell something? She does seem to want to increase her finances so if she was selling something she will want the right price for it. Im not sure if that applies but we shall see. I dont know anything about this case at all as I write. I do have a number 8 here and the direction I seem to have is North.


It is Winter in this card and the leaves have already fallen - strange because she disappeared in March! so it makes me wonder whether what happened that day in March is linked back somehow to August the previous year? I am seeing quite rural conditions here and a strong colour of Green.


I really feel she needed to prosper more and thats all I seem to have at the moment with this card.
I just seem to think she did not want to be 'mediocre' she wanted to 'go' for things and try her hand at doing something that might help her up the ladder a bit.


I also get that she was very keen on music. Did she listen a lot to music or even play or want to play an instrument? I seem to think she knew what she wanted and she was not a fool by any means, I see her as determined to make her mark at whatever she desired to do.


I feel she might have been on her way to a house or business, but I want to look at the other cards.
I also feel that she tried to balance her life with family and finances as best as she could and really wanted to do all she could to bring more money in.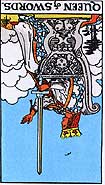 Perhaps the first card was looking at the past and bringing it into the day she disappeared by suggesting what was important to her but asking where she is I have what I call a 'dreaded' card. Firstly it is reversed and secondly it is the Queen of Swords. Friendly? No not really friendly.

The dark haired person that was in the first card appears here. Someone who is really not a nice person very y, demanding, lays down the law about the children - spouts off moral principals and generally seems to have a lot to say about things.

I am not feeling great about this card really if I was honest with you because it already shows us that with the King of Swords reversed, somethings that could have been known or found out were not because evidence of them that might tell us where Crystal is has been neatly cleared up. It is possible she was involved with a company that went bust? Perhaps Im wrong but I will mention that as a possibility.

What I can see is Jewelry and Roses. Not sure why but they are here. I also note that this card is EAST but reversed? it might be West. Stones Rocks and Water can come up on this card but they can also represent the names of roads and streets, there is also a 'bird' in this picture.

The Queen is Number 13. This could be Route 13 or it could be a 1 and a 3 or even 31. They may be distance markers, road numbers or other significant numbers for something else. I just feel that there is a dark haired person here that might block information as to where Crystal might be.

This could be male or female but predominantly it is thought that it is female. I think it can be either though. Was there someone to do with work who was abrasive or a bit jealous of her? It might be and if Crystal tried to promote herself in any way, heres someone that would shoot her down in flames.

So the feeling Im getting is that her way ahead was blocked. She might have had a couple of problems 'remembering things' and if she forgot anything I think that might have been a problem to her. Alas this is not helping much to establish where Crystal might be except for the directions and other things that have cropped up without really prompting them.


She seems to have a rival in Love or even work. Someone who might love to take credit for everything that she does to make life better at work or just in general - there really could be a male around that is a bit of a smug person in a way , I just feel that these cards might point to mountain type areas or there might be mountains in the background.

I keep thinking perhaps there is someone around her that is untrustworthy and might even tried to swindle her out of money or just generally trying to pull a fast one around her. Someone probably tried to impress her, but she is smart and shes no fool she may even have had some connections to the internet but that would have been a really BAD idea if she has been in contact with anyone there.

Im feeling she is 'below surface' this is not an earth card and its stone which makes me feel 'under concrete' so perhaps its possible she could be in a building but beneath? Im finding it a little hard with not having a good photograph to connect with Crystal.

Theres a mother figure here who for some reason appears to have become very harsh. I am getting music and dancing in this card some negativity over that. Windswept trees and a river are nearby. Something about butterflies?
Someone spreading malicious gossip and is really a very nasty character here.

There iMIGHT be an airport and or a motorbike, perhaps the Bike I saw was not a pushbike. Someone wears a scarf. It might be blue. She could be near an airport. Im seeing a 'divorced' situation. Im not sure what her love life was - but I see ill will towards her from someone else. Jealousy.

Were there two people here, I see two people connected to where she might be perhaps both of them are missing? Again another case full of deceit something cruel or someone cruel. Going back over the swords cards are going to show riverbanks or the 'cruel light of day' where someone is totally overthrown and/or ruined and also bedroom scenes in the 9 of swords reversed. I do feel that its possible that her health is not going to be satisfactory at this point.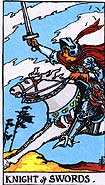 This card is a 12 so the number 12 or split 1 or two or even 21
might be useful.

To find Crystal we see this card is an East card but notice the rider goes to the West so the words East or West or the Directions should be useful. Also anywhere near 'travel' - anything that moves in that respect or is attached to travel. There might be a 'fork in the road' or two paths that possibly join together. This could be summer when she is found and the colour Yellow is strong although a 12 could be December or 12 at a distance or 2012?

I am seeing 'foreigner' and something about a speech impediment. Maybe its a place with a foreign name or even a person connected here to do with finding Crystal. I give it anyway. Knight of Swords can show Airports and I have to say that again because it might come up.


This is also a card connected with hills railways golf courses and you might expect to see these in the vicinity. I have some strange connection to her Home Town and would have thought that if that is the case she is linked to it still in some way I say this because the Lovers card comes up and so does the six of cups and that might indicate either 12 or six from home/family.

I might be wrong but maybe it may show. There is an auful 'protestor' in the cards maybe always finding excuses or maybe they talk too much or too little either way, they dont seem to know anything, but I bet they do.

This is a very short outline of the cards and a brief overview. I will need to come back here and look again at the cards I have drawn to go into more depth but this short synopsis is something I will post for now so that I can get 'something' started for Crystal.

Tarot is not 100 per cent accurate so please remember this and it does not have ALL the answers, it can help in some ways though and I hope something here might be a clue of sorts.


I think there are three people in this situation, bad arguments in a place with a water name or near water like a stream brook or something of that nature. I think there was theft and deceit and not a very nice scenario to follow. With two swords cards it is not always the best of results.

Empathy.
UPDATED 18TH AUGUST 2014
I need to put a little note here to remind myself to take another look at Crystals situation and see what else I can find with my new methods for map location possibilities. There is absolutely nothing about Crystal I can find in updated news and I have been going through the blog whenever I can recently to try to bump up cases for ATTENTION. Crystal must not be forgotten so I will try to get back in here and read through and see what I else I can add. Im sure there must be something! Please dont forget to share Crystals information.
EMPATHY.