Case Type: Concern for Welfare
Missing Date: Wednesday 09th March 2011
Missing From: Machans Beach Cairns Queensland
Missing Country: Australia
Sex: Male
DOB: Currently unknown Declan Crouch
Specific Details:
Hair: collar-length brown hair Eye Color: brown
Height: about 170cm tall Weight: slim build
Race: n/a language: n/a

Special Facts: He was last seen wearing a black T-shirt with black or maroon basketball shorts.

Police also confirmed Declan may have dyed his hair with a purple tinge about two weeks ago.


http://www.helpfindmychild.net/declan-crouch



Please note that tarot will pick up TRENDS /VIBRATIONS of PAST PRESENT AND FUTURE - it will pick up anything that is 'out there'true news or false news - either way it can throw light on what is 'in the air' - please bear this in mind when you are reading the insights.



It is very important that 'readers' of the TAROT understand this, therefore one has to be very discerning when reading. Media news can put out stories that are not factual or are pre -mediated but Tarot can pick that up. It does,nt mean that tarot is wrong, it shows tarot can see what might be suggested. However when writing the tarot it may be taken as fact.

TAROT CANNOT BE CONSIDERED AS 100 PER CENT ACCURATE.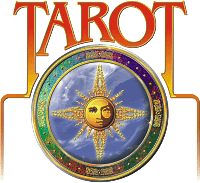 DECLAN CROUCH
« Thread Started

30 March 2011

at 21:17 »
I have been asked on the blogger if I can provide any information for Declan and I am happy to see what tarot can tell us. Please remember that Tarot picks up EVERYTHING which can be past present and future and even suppositions and press reports. Tarot is not 100 per cent accurate but often provides information that is very useful to work with however also please look elsewhere for factual information and evidence sources.
First thoughts are - what a lovely boy - and feel so sad that he is missing.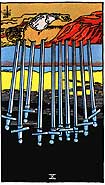 The first card 10 of swords reversed looks really bleak on the surface of the matter but often it can show someones feelings and

the fact that they just feel so bad about issues or even words that have been said.

I think Declan has been developing his own personality strengths and wanting to assert himself but felt maybe a little restricted. I think he thought 'he was out of prison' by going off like that. Unfortunately when children are teenagers thats what many may feel like as they are becoming more independent mentally and want to be able to do more their own thing. He might have wanted to 'know about something' and the answers he received seemed a blow to his own way of thinking. There may be a south east or south west direction on this card. I am getting that 'survival instinct' on this card whether thats the following of Declans own mind here or

whether hes decided to take things into his own hands is all possible.
I feel this boy is very interested in music and perhaps his musical influences were a bit different to mainstream so

he might have had a liking for the darker kind of music

. I say this because of the musical elements that are coming through to me via the next card.

Declan is not very happy about School he does seem to have a problem with it

and either someone has criticised him for being a bad student or he takes that view upon himself. I see him in a stubborn and quite rebellious mood in this card and that can make

us do things out of sheer bloody mindedness and take off as the Page of Swords can be rather prodigal and linked to the fool shows that he is just taking things into his own hands here.
As for where Declan might have gone or might be -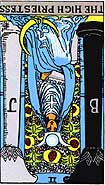 It might be understood where Declan might have gone within 28 days. I do have a B and J on the High Priestess which could be initials of people or places that might be useful. It seems to me that he wrote something down somewhere or he has a piece of paper with something written on it which might either indicate where he has gone or it is a name and address of where he decided to go. It does,nt seem to be a secret for some reason so I would have thought it was someone that the family would know?

I cannot be 100 per cent certain on that but I think its possible and he might even have mentioned it in flighty conversation. Perhaps it has not been thought of yet? He might actually have been asked to go somewhere and know that it was not a good idea to go but said a yes to it rather then seeing that he might not be aware of the entire situation.
There does seem to be an underlying factor in Declans movements and again I keep thinking that

if the family can remember everything that happened and what may have been said in recent times

they might have a better feel for where Declan has gone. In this card we get the feeling that there is

some stand off with a female, sometimes we have to consider whether it is Declans own mother here

and perhaps it is her that might be able to throw light if she can remember anything that was said to her in passing conversation or as a retort or remark. I am getting some kind of Male here who is possibly a step father or a male who is not biologically connected to Declan but can be very harsh and perhaps some good advice has been sorely neglected.
This boy seems to be speaking volumes about how he feels rather then giving me more indication of where he is as it all seems to tumble from his picture. I am trying to focus the tarot to see what I can get further.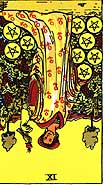 I am feeling there

is a bit of water

in the cards which could be passed off as emotion but it could be water in the vicinity of where he is. The 9 of pentacles reversed seems to tell me that he does,nt have any money and is left insecure. Sometimes it can even show money has been removed from him if he did possess some at the time of disappearing someone might have relieved him of it. North West is on the 9 of pentacles but reversed I tend to look more in the Southerly direction that could be South East or to the other side. I also feel Im seeing his school - or somewhere not far from there - I seem to have also seen a garden or vegetation in the cards so Im looking at possible

open spaces

. I just seem to feel a loss of money and quite a bit of insecurity here. If Declan did not have words about a financial problem then the feeling is he could have lost something or had it taken off him.

I feel there is a general feeling of illhealth.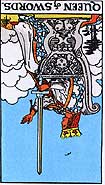 Queen gives me a 13 but no particular reference other than months which would be

under 13 months

- this card is a lovely card in many ways but refuses to give clarity because when Declan disappeared he did so under a stubborn cloud and if he is healthy and well he will stick to that stubborness because he does,nt think anyone understands him. If he has come to grief we should know this under the time specified. I just seem to see Declan linked with Music and it might be underground music and Im not positive why it is that I feel that way but it seems to be what I have. Declan does not see other peoples point of view Im afraid and that much is quite clear to me but I am getting someone in the picture who is very much a browbeater and actually not that nice to him. Queens always seem to be women on the surface of it, but it could very well be Male. I am seeing a widowed state. Perhaps he wants someone to be on their own before he came back of his own free will or perhaps a woman on her own finds him?
I really feel that there are some scars here in the past that appear to be emotional and I am not sure whether to push on the subject in honesty - I do see someone who has illhealth here and I would be concerned for Declan as there might be more then one child missing who is found at the same time as him. There is a passing thought

in my mind regarding airports

or some foreign elements here possibly even somewhere train lines run but I cannot be completely certain. There is

a river in the area

where Declan may be I am sure I have seen that and the direction on that may be South East or South West. I am also seeing concrete or tarmac.
Perhaps I am wrong but we shall just have to see as time moves along. I am quite certain there will be other details that could be covered but I will leave this as an extremely brief reading at the current time and come back to it shortly if there is no further news on Declan.
Empathy.



UPDATE 31 MARCH 2011





There are a few points here I have seen about this child. in the tarot. This report came yesterday.
http://news.smh.com.au/breaking-news-nat....0331-1ch61.html
Many sightings, no results in teen search
Evan Schwarten
March 31, 2011
Queensland Police say they have received reports of more than 130 sightings of missing teenager Declan Crouch but are still no closer to finding the Cairns boy.
Declan, 13, has been missing since leaving his family's home at Machans Beach, near Cairns, after school on March 9.
Since then police have mounted the largest search operation in the state since the abduction of Daniel Morcombe in 2003.
Advertisement: Story continues below
Cairns Child Protection Unit officer-in-charge Detective Senior Sergeant Glenn Horan said the large publicity campaign had generated a lot of community interest with more than 130 reported sightings of the boy today.
However, he said none of the sightings had been verified.
"We follow up on every sighting and try to verify whether it was in fact Declan and to date none of those checks have located him," he told reporters in Cairns.
He said police had spoken extensively to the boy's close friends and were confident they had been as helpful as possible.
"We don't believe any of his close friends are withholding information and many of them are as curious as we are as to where he may be."
Declan's mother Ruth said she believed her son was in hiding somewhere but realised he may have met with harm.
"In my heart, I really think he's hiding, but in my head I appreciate that there are certain other options police need to consider," she told ABC Radio on Thursday.
"But at this point I'm not even going there."
However, she said there had been no indication Declan wanted to run away and he had not been fighting with his family before his disappearance.
"This is the mystery. There was no trigger."
Ms Crouch said the only reason she could think of for her son's disappearance was that Declan, who she described as "extremely intelligent",
was not very engaged with his schooling.
She also said Declan had
expressed a desire to go to Canada as she drove him to school on the morning he disappeared.
"He wanted to go now, of course. But I said you can't go now but maybe down the track you can do an exchange program or when you are older you can do a gap year."
However, she said, he'd left his passport at home and wouldn't have been able to book a
flight.
She otherwise painted a picture of a typical teenage boy
who loved heavy music,
dark clothes, soft drink and computer games.
Ms Crouch said her son had a "vivid imagination" and would
think he could get by on his own.
"That's my real concern - that he thinks he can manage but may get himself into situations he thinks he can handle."
She appealed for Declan to come home or contact the family to let them know he was OK.
QUEENSLAND Police have discovered human remains in bushland at Machans Beach, north of Cairns.

….


Cairns was in the grip of a monsoonal rain storm on the day Declan was reported missing.

Bushland near to Machans Beach included the Barron River, a known crocodile habitat, and an intricate network of tidal mangrove creeks near the Cairns Airport as well as local youths' haunts

http://www.heraldsun.com.au/news/human-r....067432804


Two news reports come in. One saying that they are not seeing signs of foul play. Secondly Unhappy Mum hopes its not Declan.

http://www.theaustralian.com.au/news/nation/no-sig...

http://news.smh.com.au/breaking-news-national/mum-...


Family is waiting on ID.

http://www.cairns.com.au/article/2011/06/03/167411...



Police are suspicious it might be suicide.


Read more: http://www.news.com.au/national/suicide-....9#ixzz1OQ0jeo19
Mrs Crouch has always insisted that Declan had run away, but was safe, and that he was not in the bushland near their home.

June 3rd latest news.
Mother still hoping human remains found at Machans Beach are not those of her son Declan Crouch
Read more: http://www.news.com.auhttp://www.couriermail.com.au/news/queensland/human-remains-found-at-machans-beach-may-be-clues-to-disappearance-of-declan-crouch/story-e6freoof-1226067413396#ixzz1OQyGwT7B

THE mother of missing Cairns teen Declan Crouch is hoping against hope that a skeleton found 300m from her backdoor is not her son.
Ruth Crouch who bravely fronted the media and cast her net as far as Melbourne in an agonising three-month search for her missing son was today too distraught to speak.
"She is still coming to terms with the latest development," family friend Jane Halls, who has known the teen since he was a baby, said today.
"We don't know for sure yet (that it is Declan)," she said.
"She wants to still keep hoping (it is not) as a mother would."
…tensions between the two over her monitoring of Declan's internet use.

"I didn't make myself very popular," Ms Crouch said.

"Declan was very careful and deleted all his history on the computer. He realised I spied on him and I know he's annoyed about that.

"If he didn't like that and he couldn't accept those boundaries he might have run away."

http://www.couriermail.com.au/news/queen....f-1226028346343


From Empathy's tarot:
http://empathy7.proboards.com/index.cgi?....6#ixzz1OPm5mEJl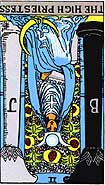 In this card we get the feeling that there is some stand off with a female, sometimes we have to consider whether it is Declans own mother here and perhaps it is her that might be able to throw light if she can remember anything that was said to her in passing conversation or as a retort or remark.



MORE VALIDATIONS FROM TAROT

There is a passing thought in my mind regarding airports or some foreign elements here possibly even somewhere train lines run but I cannot be completely certain. There is a river in the area where Declan may be I am sure I have seen that….

Read more: http://empathy7.proboards.com/index.cgi?....6#ixzz1O1z4gUAi

I've pulled this from an article in the Herald Sun, which provides some more details about where the searches were concentrated.

QUEENSLAND Police have discovered human remains in bushland at Machans Beach, north of Cairns.

….


Cairns was in the grip of a monsoonal rain storm on the day Declan was reported missing.

Bushland near to Machans Beach included the Barron River, a known crocodile habitat, and an intricate network of tidal mangrove creeks near the Cairns Airport as well as local youths' haunts

http://www.heraldsun.com.au/news/human-r....067432804
POLICE are investigating the possibility that missing Cairns teenager Declan Crouch may have committed suicide.

After nearly three months of intense searching and a nationwide appeal, police believe they may have discovered the 13-year-old's body just 300m from his family home.

Police divers found skeletal remains in a hard-to-reach pocket of tidal wetlands behind his Machans Beach home, in the northern beaches of Cairns.

Teams of SES searchers and police have combed the area since Declan vanished on March 9, at the height of far north Queensland's monsoonal wet season.

He caught the bus home from school that day, dumped his school bag, changed clothes and disappeared without a trace.

When asked directly about the possibility of suicide, Detective Senior Sergeant Glen Horan said there were "signs" found with the remains that indicated the death was not suspicious, but would not elaborate.

Until yesterday, police were stumped about his fate. Still, there are questions to be answered.

The remains need to be formally identified through forensic testing and a cause of death needs to be determined. Yesterday, Sergeant Horan said certain areas had not been safe to search until now, when water had subsided.

"It was only the special skills of our dive squad searchers that got into that area," he said.

"It's a tidal wetland. On different tides there would have been water over the ground."

Sergeant Horan said that even if the divers had arrived earlier, it was unlikely they would have been able to reach the place where the remains were found.

From Declan's home, it is a time-consuming trek through dense, boggy, mosquito-infested bushland to reach the spot. It is not known how Declan may have got there, although he did have a habit of exploring alone in the bush.

Declan's mother, Ruth Crouch, will continue to hold out hope that her son is alive, until official confirmation otherwise.

DNA testing, clothing analysis and checks of dental records will be used to identify the remains.

Mrs Crouch has always insisted that Declan had run away, but was safe, and that he was not in the bushland near their home.

Family friend Jane Halls said the realisation that Declan could have been found so close to home was a shock.

She said there was no indication that Declan was depressed.

"If that's what's happened (suicide), then it's a surprise," Ms Halls said.

http://www.theaustralian.com.au/news/nat....f-1226068259563