Willie Jigba, 24 was last seen around 3 a.m. Saturday at a party in Tempe, according to Tempe Police. His family reported him missing Sunday.
Jigba was at the Sotelo Apartments at 615 E. Weber Drive near College Avenue and Curry Road and attempted to walk home from the party.
Jigba is described as an African American male about 6 feet tall and 185 pounds.







Please note that tarot will pick up TRENDS /VIBRATIONS of PAST PRESENT AND FUTURE - it will pick up anything that is 'out there'true news or false news - either way it can throw light on what is 'in the air' - please bear this in mind when you are reading the insights.



It is very important that 'readers' of the TAROT understand this, therefore one has to be very discerning when reading. Media news can put out stories that are not factual or are pre -mediated but Tarot can pick that up. It does,nt mean that tarot is wrong, it shows tarot can see what might be suggested. However when writing the tarot it may be taken as fact.

TAROT CANNOT BE CONSIDERED AS 100 PER CENT ACCURATE.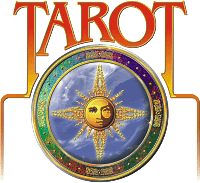 WILLIE JIGBA
« Thread Started 26 January 2011 at 14:18 »

Tarot has produced a few glimpses of what may have happened to Willie after 3am on Saturday 23 January however, please look to factual sources for reliable information. Tarot looks at past present and future trends and not all details may be accurate or apply.
Looking at the first card asking what happened at 3am and after I receive this card the Page of Wands which seems to tell me that Willie received a message of some kind. This is a youthful kind of card and shows young people, in some cases it can represent news of a birth OR some surprising situation that erupts - someone could even be shaking a stick or something in their hand.
However, the idea is that it may be Willie holding something in his hand which could represent a phone or something else and leaving somewhere very quickly due to what he has heard or what has been relayed. In this card is he 'on his way' somewhere so he is changing location at the time. This card shows a dark friendly young man who I take to be Willie ? The message in a Page of wands is normally attributed as being from a near relation.
When the card is upright it is considered to be a good message that is received. The previous card does show someone who is burdened however, and is walking towards a town carrying something and generally they have reached some of the buildings of that town. The message does not appear to have anything negative in it as the first card in fact it is thought of as good news if anything. The next card would be the Queen of Wands who is a dark skinned lady or she is the opposite with bright red or strawberry blonde hair. (Maybe a wig)
A very show stopping kind of female who is very much a magnet. She could be anything from a mother figure to a call girl but she is very magnetic and she appears in these cards as kind and capable. I also see further along in the distance a man with a very fast car. I think there is some real connection with the female that I see in the cards and a good augury between Willie and her? a trip is indicated on these cards so Im wondering if a female asked Willie to go somewhere with her? there is a black cat at her feet therefore Im feeling some secret involved or something that is either not known about her or she is a hidden factor?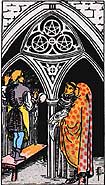 Im getting Willie connected to this building or somewhere with an Arch. Generally this is a card where someone learns or is an apprentice so it could be a school or business or place where you learn things. I cannot say exactly only what it gives to me. This card also shows employment - somewhere a person works. Possibly connected to work buildings? or business buildings? There is a three on the card though Im not sure if that is useful or not. I see three people in this card, a couple and a third person. Sometimes it can represent a family of three.
There may be water/river nearby this building and very possbly a bridge connection or Arch

. I cannot be entirely sure but I give what I see. The directon on this card is mostly

NORTH.

It is a business building that I can see or somewhere that provides paid employment. Was Willie working? if so then I would check buildings connected with him maybe a little outside of the place where he lives? I also want to mention airfields but this is a very thin link however I will mention it as it may play no part in this tarot.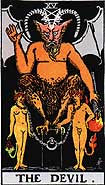 When asking when Willie will be found Im told to use 'discretion' here. The Devil card is always connected to Alchohol and drugs. Im not saying that Willie is involved in this but Im mentioning the possibility of this connected to a building where people can be 'shaken out' and Willie could be in that building OR near it the description I have already given. The Tower which would come next shows an accident out of the blue. Somebody could have fallen from a window. Those are all possibilities and Im not sure who they relate to or whether this is reliable. I give the number 15 and I think that is all I should give on this tarot.
Empathy.


UPDATE 29 JANUARY 2011



Im sorry to report that Willie has been found see report below. There will be further updates to this tarot as this is now a homicide investigation

.




http://www.abc15.com/dpp/news/region_southeast_val...

TEMPE, AZ - Crews have recovered a body at Tempe Town Lake this morning.

Tempe Police Sgt. Steve Carbajal said the body has not been identified and no family has been notified.

During the past two days, teams have been searching Tempe Town Lake looking for 24-year-old Willie Jigba, who's been missing for almost two weeks.

Divers were sent into the lake Wednesday afternoon after search dogs picked up a scent indicating that a body may be in the water. No body was found, police said.

Authorities called off their search Thursday night.

It is unknown at this time if the body is Jigba's.

Jigba has been missing since Saturday, Jan. 15 when he left a party attended by several of his friends. He was scheduled to begin a new job the following Monday but never showed up.

More than 1,000 people have joined a Facebook group in an effort to locate him, while friends have called area hospitals looking for any trace of the missing man.

Anyone with information about Jigba's whereabouts is asked to call police.

Stay with ABC15.com for updates.This is a

HOMICIDE

investigation.



@abc15: BREAKING: Tempe PD tells ABC15 that body found at Tempe Town Lake is believed to be Willie Jigba http://bit.ly/f1kiV4

PD: Body recovered at Tempe Town Lake: Tempe fire officials say it has been deemed a homicide
investigation, and... http://bit.ly/i5PnX5
"The girls realize the police have designated the case as a "death investigation," leaving all potential causes of death on the table for now, but they
find it hard to believe that Jigba could have fallen into the lake near the Rural Road bridge along the path that he was believed to have walked home."


Read more: http://www.azcentral.com/community/tempe/articles/...


Tempe Town Lake body found: Willie Jigba's friends react – AZCentral.com
Tempe authorities recovered the body from Town Lake shortly ... Rodriguez said Jigba had worked as a server at Applebee's in Mesa

but was starting a new job at Kona Grill the day he went missing.

Rodriguez said he would be more careful in light of what has ...

http://tempe-jobs.com/2011/01/29/tempe-t....-azcentral-com/




Read more: http://www.azcentral.com/community/tempe....l#ixzz1CRMzZm7H

A member of the dive team, Chuck Herman, decided to return to the lake Friday morning and discovered the body floating on the surface, just outside the original search area on the

north

side of the lake.