ANNAS OFFICIAL WEBSITE AND DISAPPEARANCE ON 16 JANUARY 1973
http://www.searchingforanna.com/
Please note that tarot will pick up

TRENDS /VIBRATIONS of PAST PRESENT AND FUTURE

- it will pick up

anything that is 'out there'

true news or false news

- either way it can throw light on what is 'in the air' - please bear this in mind when you are reading the insights.

It is very important that 'readers' of the blog understand this, therefore one has to be very discerning when reading. Media news can put out stories that are not factual or are pre -mediated but Tarot can pick that up. It does,nt mean that tarot is wrong, it shows tarot can see what might be suggested. However when writing the tarot it may be taken as fact.



TAROT

CANNOT

BE CONSIDERED AS

100 PER CENT

ACCURATE.
ANNA CHRISTIAN WATERS
22nd September 2010


I have been asked what happened to Anna Christian Waters when she disappeared in 1973.

The very first card I have is the Five of Pentacles. The question I would ask is, was it snowing?

Here we have a little girl who has fallen down and hurt herself. Firstly she was on her own and did,nt feel wanted. There was perhaps no reason to feel that way but she was on her own. Then someone came along and helped her up. She does appear to be outside of the home which is the building in the background ( building of comfort and help) so her family would be inside while she is out so it does appear she was there.

It is a FIVE in number and Pentacles stand for Years so this card clarifies exactly the situation except it has to us that she injured herself and someone else is there in the picture. She is basically at that time -' damsel in distress'.

I understand that there is a 'stepfather' in the case of Anna, and it is not mentioned what happened to her father. Anna was her mothers child. Anna would have meant a great deal to her mother, she was in fact 'her treasure' according to the five of pentacles but on this card it seems that the mother is not giving the child any attention but at the same time, it shows that someone has helped this child in a situation of distress.

As I am writing this other 'messages' pop up with this card, I cant place them but I can give them. It seems there might have been a bit of financial problem in the family, I dont know if there was unemployment with somebody but it seems to come up here.

If it is not with the family then it is with the person outside that I see around this little girl. One thing that I do see is 'teamwork' so I know that Anna was not on her own or if she was not for long.
This card can show a person who feels abandoned and it could be due to the fact that money resources in the family hit a crisis point. There may also be contractual papers or some heated debate over something. How if at all this fits in I do not know, if it is not part of the equation then basically Anna on that day was feeling left out and on her own outside.

This card can symbolise, lovers, mistresses, husbands and wives and family members but can also show worry and concern in those relationships. Because I do not see a mention of Annas father and only a stepfather I am wondering if this was an approved situation or whether the father felt 'left out' of the family circle with his child and wanted to have a 'talk' about this with regard to Anna. Im not saying this happened but I do see these relationships written on the card here and of course there are two people who are part of a 'team' and clearly outside the building. The one tries to help the other.

Its a very strange situation in truth. There may hae been disapproval of the relationship of Annas mother with her partner, it may not seem so and that may not be the case, but I have to point out what the five of pentacles tells us.

The card next up would be the six of Pentacles and this shows 'charity being given' so someone is helping someone else with FINANCES in this card or the seizing of an opportunity could even be a gift of money, insurance payout or some kind of financial inheritance here.

I really find it very odd how finances are linked in these cards yet they do certainly point out the time of year unless of course this person turned up to give a LATE Xmas present and at the same time helped Anna who I feel fell over.




When asking where did Anna go I am getting WEST.

This card is not giving me anything negative. It is in fact a wish card as a rule. The ten of cups that follows it shows us a FAMILY and family environment - so its a 'wish to be with family' ?? and the eight of cups prior to that shows moving away from all that is familiar to seek a new path.

Where Anna went might be to do with anyone that came into the house because the wine and table suggest that they had been inside the property at some point having been offered beverages. I would imagine that the little girl is still outside ? but there is something strange really about this card because of the family card that comes up next.

Did she go off with someone known to the family? because there is nothing nasty on these cards that I have seen so far that I can see.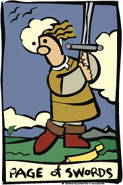 Obviously as this all puzzles me a little I wondered why this girl has never been found. There is a 'military connection' by the way to the 9 of cups, its not particularly strong there, but it is there nonetheless.

The Page of Swords comes up when I ask why Anna cant be found and that is a very strange card too. Basically it seems to me that this case is actually solved. Now you may think thats a stupid thing to say, but it is,nt if there is not a mystery attached to it.
Information is gathered up in the Page of Swords and then it takes someone to cut through the confusion to get the matter an answer, but there seems to be some kind of answer already known????

Someone does of course know but I think the situation ended a bit badly or may not have been explained properly as this card can tell us about false rumour and can suggest that we dont know all the full story.

I may of course be terribly wrong tarot is not foolproof. The Fool is connected to this card though and shows someone off to new beginnings. Perhaps like when someone is adopted and you are not allowed to know where they go because the paperwork forbids you to know.

Thats the kind of thing I see here but again I just might be wrong.

I dont feel Anna calling in these cards particularly, if she was she would have come forward if she was alive because I dont see that she has been in a terrible situation like death at least not from these cards on the table. It looked more about finances and maybe problems in the family or something of that nature. It could also be someone outside of the family but connected in some way and for some reason Anna was secure with them????

So it is indeed a mystery and incidentally it looks to me like she went away by train.

There might have been a 'teacher' who was very interested in Anna and very concerned for her though I really cannot say why.

Tarot can say things sometimes that are not 100 per cent accurate and I always give a warning about this on my readings and I do not ever write anything to create controversy. It is really up to the reader to decide the puzzles that tarot gives I just write them down.

I get the feeling that there is a lot to this case that perhaps should not be pryed into because there seems to be 'opposition outside the house' so obviously someone raised some concerns though what their reasons for doing that I dont know but whatever the case, it would add a lot of delay to finding out why nobody has been able to seek this girl.

And Frankly, I dont think we should be.

However, I will add one thing. The person in the picture is wearing a bell, the bell means they wanted to get a message through but nobody is listening - the Liberty Bell can be traced to America. I cant remember the region and it may mean nothing but I give it anyway.


Mars Red World and North come up on the five of Pentacles.
We have had a direction of West in the tarot but on the initial card we have North and Mars/Red seems to suggest a warlike situation.

The Page of Swords shows a Train journey or the possibility of this and also we have a HILL on the Page of Swords. This may indicate that by Midnight this child was travelling North or that there is a connection here somehow.

Now reading the case of this child and her parental situation, it seems to me that the Five of Pentacles also has a G - (gnosis) sign forming a Star the father it appears is initial is G and his friend Initial G - they are/were a team.

It is easy to try to attempt to form a story so I shall not be doing this. What I see is propositions but non committment coming from the Father but desire coming from his friend to be a mentor or boss - it would be photographical captures that interest him about little Anna and this does seem to bear out with what has been said.

It appears to me that seeking Anna is like 'rocking the boat' (reversed page of Swords ) almost as though there is 'no forwarding address' but for good reason. Having said that I cannot rule that as absolute.





The 9 of pentacles comes up and shows a 'kept woman' - ( AND THIS MAY NOT BE ANNA ......but someone else ) whether Anna turned out to be a kept woman or not I do not know or whether she was just a little caged bird I cannot be sure but I see her in the grounds of a 'manorial house' so we would be talking about a large building not an average house. The woman in the picture is safe and secure and either is wealthy and independent and is not interested in the outside world, or she is there and has problems with the outside world.

The worst case scenario is that she is buried in the Garden because the snail at her feet can represent something decayed.

However, sometimes that can be what one wants to put behind us. The 9 of pentacles can simply be someone who has had a benefactor and been looked after and done well for themselves. This is also a completion card therefore where I would expect she could be found. The directions on this card are Moon, Violet, World, West but still with a link to North, Winter, Midnight

Either way that is how I see Anna but of course I cannot guarantee whether that is the negative or positive aspect on this card as I look at it.

The hooded falcon that she has on her arm represents secrets in some respects, but in others it is someone who hides themselves and the hood stops them from seeing or wanting to fly away.

So there is stability in the picture and some kind of security. The place in the picture I see has a WALL - Wall can even represent the name of a place .

If Anna had anything to do with her real father and his friend it seems that she still would not have had anything to do with them ALL the time, it would have only been on a part time basis.

So part of me is not quite sure about whether the connection to the Father would be the answer to her disappearance. Perhaps they knew a woman to whom this little girl was brought up and the woman was paid to do so.

I do believe that the tarot mentioned finances and I see now from this link

http://sites.google.com/site/ginad42/annawaters

how finances could have been a headache in the picture of the past. However even in the past I see this little girl in a GARDEN and I see her in the Garden of this large place in the future - and it just seems strange to me that she would disappear from a garden to be discovered perhaps in a garden location in the future???

I have said that I was not feeling it was a good idea to look for this little girl. The main issue for me is trying to discern to whose benefit it would be to do this. Obviously the childs mother has a longing but the tarot does not have mercy of emotion, it only bonds to the truth as it sees it. Tarot tells us - dont rock the boat - and it also seems to tell us about a knight of cups who is linked to a boat. A knight of cups is often someone below the age of 35 - it could be male or female - but they know their way around a river and how to sail if it came down to it, they may even own a boat.

Regardless of all of this, I see a true combination of factors that do seem to link partially to the story on that link which I did not read until after I had written the tarot. Tarot is saying that some things are best left alone and uncovered . For example if Anna was alive she may not yet wish to reunite with her past - if Anna was not alive it might reveal some things that would probably be best left undercover and that is the feeling that I have.

Someone was very keen to be paid and have payment continued - and this much is apparent in the tarot. I think tarot needs to stand back on this situation because it is seeing very many angles of what may have occurred. The problem I have is whether Anna is in a Garden of the past or one of the Future and whether she stands there as the owner self made or whether it is the negative factor? Either way it seems this girl is Secure.

There are no big indications of death or being deceased that I can see on these cards, the only exception is the snail in the garden of the 9 of pentacles but that is very vague indeed.
Previous card to that would be the 8 of pentacles which would show a dark haired girl working very hard at a trade/apprenticeship or a person who does this. I always seem to see a musical quality here with the number 8 - and the person works away from the city - often alone - BLACKSMITHS or Black can be attributed here for whatever reason as this card used to be the card of the Blacksmith so we have to take it into account (also sometimes thought of as an IRISH connection but dont hang on to that just in case its just an outside influence popping in )- following the 9 of pentacles is a glorious ancestral house, it is the traditional house of the family that has the generations that run through it - so that looks like the family home wherever that is or which part of family that belongs to - so we seem to see where this girl is dont we? connected to a large home and there is a dog there as on the 10 of pentacles the children when they were younger patted the dog. Grandparents may even have lived or visited this property so it has a longevity about it and would have been classed as some kind of inheritance.

Anyway I leave all these puzzles here because they might all help and then again - they might just confuse the issue which I apologise for.

Much love to Anna wherever you are x

Empathy.
UPDATED 5TH AUGUST 2014
https://www.facebook.com/anna.c.waters
Anna Christian Waters is on Facebook. Join Facebook to connect with Anna Christian Waters and others you may know. Facebook gives people the power to...